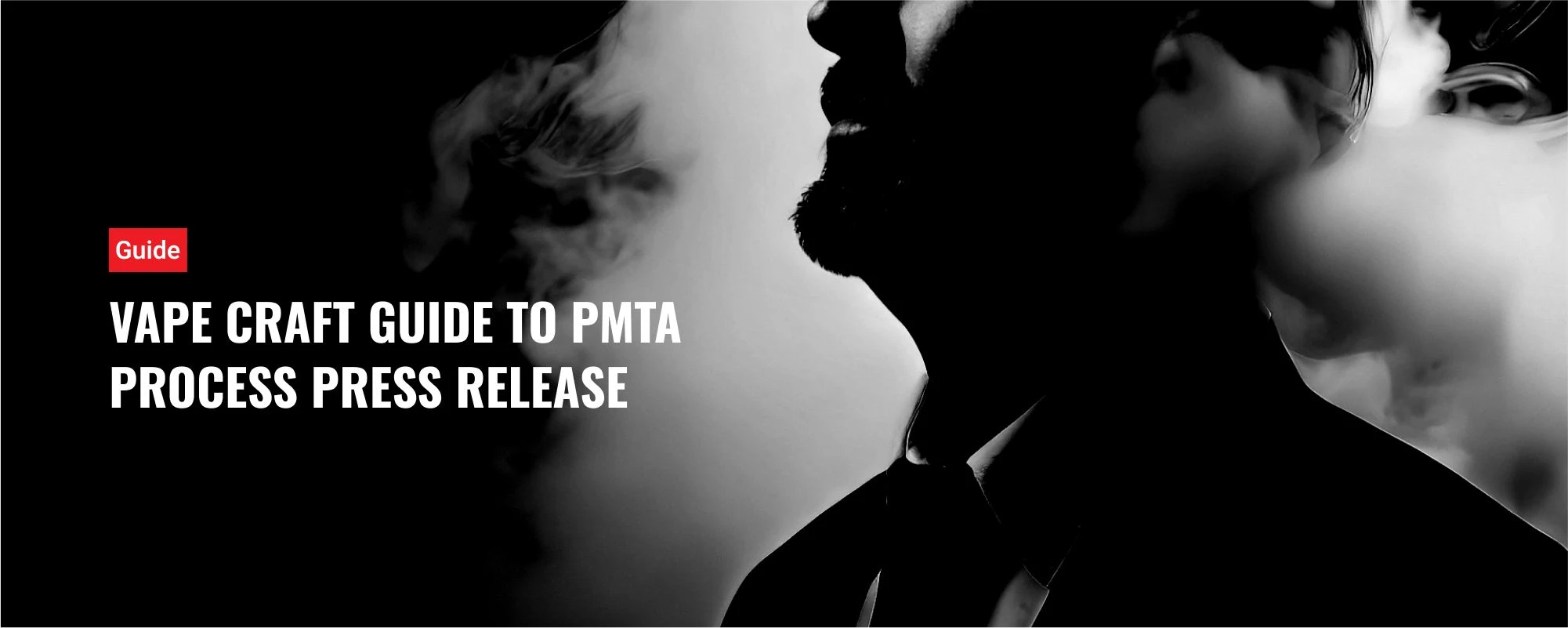 Vaping Relevant
Loading...
173 view(s)
Vape Craft Guide to PMTA Process Press Release
September 9, 2020, is a date that to most would hold no significance.  Although to business owners in the vape industry, it was the day Thanos snapped his fingers.  
On this day, according to the FDA, Center for Tobacco Products. The only vaping related items that could legally be sold on the market, had to have individual PMTA's or Premarket Tobacco Applications per item.
In reality what it means is that this form can be submitted by any individual looking to sell a new tobacco product on the market. It is there as a regulatory process put in place by the FDA marketing order. Which falls into the guidelines listed under: Section 910(b) of the Federal Food, Drug, and Cosmetic (FD&C) act.
With submitting a PMTA for that one specific item, an individual must provide a litany of things. Mostly surrounding the presentation of scientific data demonstrating that this product is appropriate for public health. As well as detailing the methods, facilities, and controls used to manufacture, process, and pack the new tobacco product.
PMTAs also ask for a thorough account of avenues such as risks and benefits as a whole.
Going a step further by including projections of people who might use the possible tobacco product. Which is weighed between potential consumers and nonconsumers.
Even digging deeper by questioning the prospect of individuals who might switch from other tobacco products on the market to the one being proposed. As well as weighing the likelihood of non tobacco consumers 'using', specifically because of this new product.
I know some of you just joining us, might not realize the full extent of what that means.
So let's put PMTA's domino effect into perspective.
The vaping industry had entered the U.S market back in 2007. Quickly gaining traction as a unique pioneer in smoking options. It grew because it was presenting a new outlet for smokers. Which was ultimately a tailored platform for the individual.
The industry did that by offering millions of creative vaping alternatives. Successfully offering a multitude of products and presenting a full spectrum of vaping hardware, all the way to juice.
In addition to developing an entire community and industry in the process. Which constructed a subculture of vapers, who were gaining more attention and advocates every day.
What mandatory PMTA's did was eliminate the versatility of this industry. Which conclusively crushed the smaller subsets of vaping businesses. With a sting added to by the FDA openly marketing this process of approval as 'difficult to obtain' and their way of putting regulations under the guise of 'public health concerns'.
This of course was met with a huge amount of speculation that dates back to 2016. When the deadlines and details for this regulation were originally announced.
Although, as the dates grew closer, coupled with misguided media fueled backlash hitting the vaping community. It left business owners and consumers in an explosive situation, due to the looming crack down of the FDA. The same business owners and consumers who had already staked their claim in the foundation of this industry.
Personally, as a vape advocate, I agree with adding regulations and processes for approval when it comes to things we are consuming. Although, what I do not agree with is using these regulations and processes of approval as a bullying tactic in preventing change. Which is how most would say the intention of PMTA's came across.
Business owners speculated that the FDA just wanted to reduce the industry to a few large corporations. Essentially owned by already standing big tobacco companies. While compounding this with the mixture of negative media coverage and the multitude of misguided information. Ultimately sealing the deal on moving the PMTA deadlines up and narrowing the safety processes associated with the nuances of vaping.
Today the industry still stands, wounded but strong, while the FDA reviews all the submitted applications. Though it is not as easy to open a vape related business these days. And bridge companies such as merchant processing and real estate are still treading with caution.
It is not impossible to get your foot in the door by following and submitting to the PMTA process.
It will just be up to the FDA to get around to approving or denying it. All you have to do is submit a booklet of information about your product. This includes a cover letter and the administrative information introducing the item. A table of contents and summaries built around the product and business. As well as product description, manufacturing, nonclinical information, clinical product impact on individual health, clinical product impact on population health, and environmental impact.
The FDA estimated the average cost for each submission as follows.
If you are looking to file an SE exemption report, it could cost you around $1,500. To do a SE report it could land anywhere from $3,500 to around $22,700. In totality, a premarket tobacco application, covering all your products, could cost $117,000 to $466,000.
Which as you can imagine becomes very costly for small businesses.
Once you have all of this paperwork together you can submit it online or through the mail. While also including the PMTA fee. Something to remember when entering this industry however, is the importance of being thorough with your submission. Venturing forward at your own risk with a possibility of it being denied with no explanation or refund.
In conclusion there are still companies thriving within these new regulations. Though there are not as many companies like Vape Craft standing. Which is one of the few manufacturing conglomerates still going strong today. They, like many others, still did their due diligence in going through the process of successfully completing, paying, and getting approved for the sale of all products. Going as far as stating the importance of thePMTA process set forth by the FDA, though expensive, is not all bad. Its purpose is to create a safer vaping space for both businesses and consumers. Doing this by laying out the proper guidelines for all businesses to either adapt to or grow with.
For those looking for our PMTA submitted eliquids we are proud to present our products that will be around for some time to come. These are all available for purchase for wholesale, distribution and retail purposes. Feel free to contact us at [email protected] or call us at 760-295-7484.
PMTA Submitted Eliquids by Vape Craft Inc:
OMG So Good - Rich creamy dessert flavor with notes of custard, vanilla, cheesecake, and brown sugar
True Gold - A blend of ripe pear, candy watermelon, mango, and apricot
Real Money - Bold bourbon, creamy sweet notes of vanilla, brown sugar, and custard, finished with a light cheesecake on the exhale
Rich Tobacco - Tobacco with subtle caramel
French Vanilla Cheesecake - Authentic cheesecake with multiple layers of french vanilla
Vape The Rainbow - Familiar taste of multi-colored candies that are irresistible if you're a candy fanatic
Candy Watermelon - Sweet candy taste infused with delightful notes of watermelon
Strawberry Custard - Strawberries mashed into a pool of creamy rich vanilla custard
Blueberry Custard - Blueberries and more blueberries mashed into a pool of creamy rich vanilla custard
Mean Mocha - Mocha coffee
Majestic Menthol - Nothing but refreshing and chilling inhale of icy mint
Holy Moly - Graham crackers, creamy vanilla and hazelnut blended with notes of other creamy dessert flavors
Strawberry Milk - Fresh strawberries and creamy milk with a drizzle of sweet strawberry sauce on top
Orange Dream - Orange cream frozen treat
Blue Banana - A classically sweet blueberry and banana candy
Black Label - Green Jacket - Sugary watermelon, ripe pears and sweet mango with an exciting apricot finish